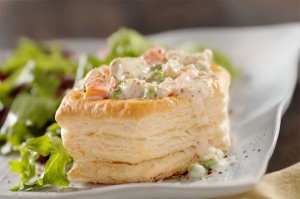 Preparation time : 30 mins. | Serves 8 puffs
Vol Au Vent Recipe is a French style of making stuffed puffs. It is a cup shape puff pastry filled with creamy and cheesy chicken and vegetables mixture. You may also use white sauce for making the stuffing sauce in which you can put the chicken and mushrooms and other vegetables.
Ingredients:
1 egg (lightly beaten)
1 lb puff pastry
For Stuffing:
2 tbsp butter
2 tbsp oil
4-5 cloves garlic (minced)
2 boneless chicken breasts (cut into strips)
2 tbsp flour
½ cup mushroom (chopped)
¼ cup spring onion (chopped)
¼ cup carrot (cubed)
Salt to taste
1 tsp freshly crushed black pepper
1 cup chicken stock
1 cup cheddar cheese (grated)
Procedure:
1. In a saucepan, heat butter with oil and cook chicken strips in it till become dry.
2. Then add flour and cook for few mins. till pleasant roasted aroma starts to come. Make sure that flour would not turn into brown.
3. Now add mushrooms, carrot with seasoning of salt and black pepper and mix well.
4. Then add chicken stock and cook till mixture gets boil and thicken.
5. Remove the pan from heat and add spring onion and cheddar cheese to the mixture and mix well.
6. Take the puff pastry dough and roll it to make it flat of around ½ cm thickness. Now using cookie cutter cut it into round circular shape.
7. Take two of the circular shape dough and cut small circular round from the center using smaller round shape cookie cutter to make them hollow like donut.
8. Now take a whole round shape dough place it onto the greased baking tray, brush it with beaten egg at the edges, place donut shape dough on it, brush it also with beaten egg and place another donut shape dough on it. Then put 1-2 tbsp of prepared stuffing at the hollow part in the center. Brush the corners with egg and similarly prepare rest of the pastries.
9. Place the tray in preheated oven for around 12-15 mins. at 350 degrees F.
10. When the vol au vent pastries are ready take them out from oven cool them to room temperature and serve immediately.
photo source : 1