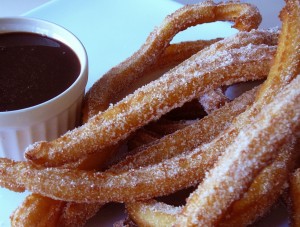 Preparation time : 40 mins. | Serves 6-8 persons
This Churros recipe is one of a famous Spanish fried doughnuts which tastes nothing but when it is served with delicious chocolate sauce and topping of cinnamon sugar then its taste enhances amazingly.
Ingredients:
50 gm butter (melted)
350 ml water
½ tsp vanilla essence
250 gm flour
1 tsp baking powder
Pinch of salt
Oil for deep frying
100 gm caster sugar
2 tsp ground cinnamon
For Sauce:
200 gm dark chocolate
100 ml cream
100 ml milk
Brown sugar to taste
½ tsp vanilla essence
Procedure:
1. Bring water to boil, turn off the flame then add in butter and vanilla essence and mix well.
2. Sift together flour, baking powder and salt. Gradually add the butter mixture to the flour mixture and make smooth thick batter. Keep the batter aside for 15 mins.
3. Meanwhile prepare sauce, for that you need to cook all ingredients of sauce together in a pan until it gets thick.
4. Now pour the batter into the piping bag or piping gun with star shape nozzle attach at the end. Drop the batter using piping gun into the preheated oil and make long churros sticks. When the sticks get light golden brown take them out into the serving platter.
5. Sift together cinnamon and caster sugar and sprinkle it onto the churros sticks and then serve with prepared dark chocolate sauce.
photo source : 1