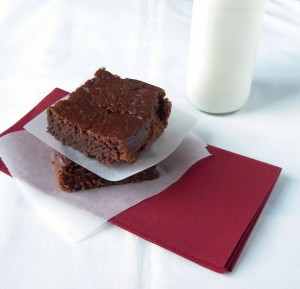 Preparation time : 50 mins. (approx.) | Serves 16 pieces
This eggless brownies recipe is prepared with yogurt instead of egg and is very delicious. It contains both flavors chocolate and cocoa which combine together to give it fudgy look. In some other eggless cake recipes instead of yogurt, vinegar and milk or buttermilk is used just like in making eggless cupcakes.
Ingredients :
¾ cup flour
¾ cup caster sugar
½ cup cocoa powder
½ tsp baking soda
½ cup chopped walnuts
½ cup chocolate
1 cup plain yogurt
½ cup water

Procedure :
1. Preheat oven to 350 degrees F.
2. Melt the chocolate using double boiler method i.e. [;ace chocolate bowl over the preheated water to avoid chocolate burning or over cooking.
3. Then remove the chocolate bowl from double boiler, add the yogurt and sugar; mix until combined. If necessary cook the mixture over very low heat so that all ingredients mix well.
4. Now sift together dry ingredients including flour, cocoa powder, baking soda and then mix with nuts.
5. Now gradually add water to the dry mixture and then add chocolate mixture carefully so that a smooth batter would form and no lumps would be there.
6. Take the greased baking pan of suitable size, place parchment sheet over it and again grease it well with butter or oil and then dust it with flour all around. Now pour the prepared batter onto the pan and bake it in preheated oven for 25 mins. or until toothpick inserted comes out clean.
7. After that cool the brownies to room temperature, then take it out carefully from the pan and cut into squares.
photo source : 1