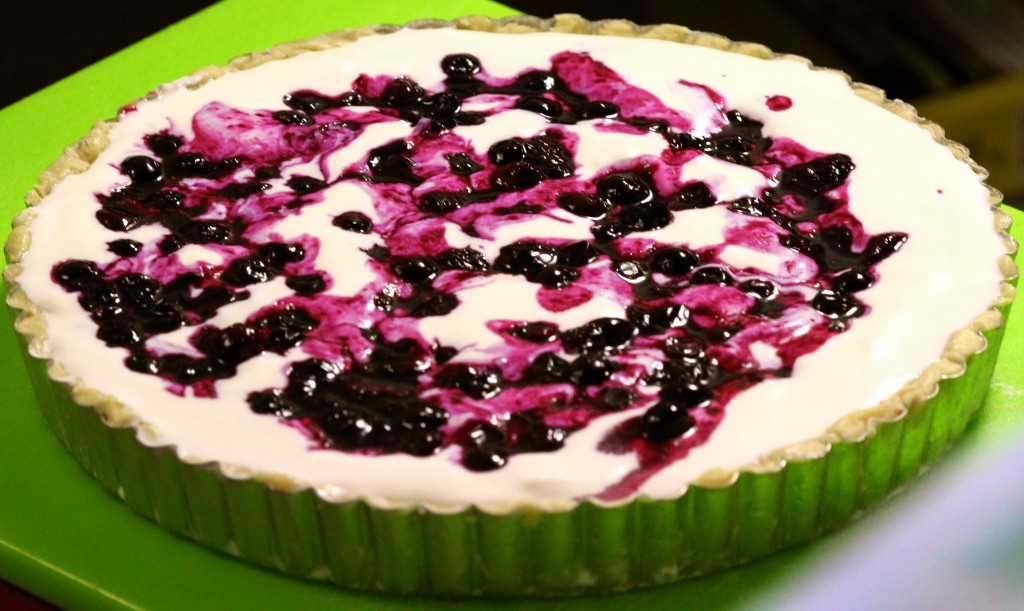 Preparation time : 20 mins. + Refrigeration time | Serves 6 persons
This blueberry cheesecake tart recipe is a no bake dessert. It only takes time in setting otherwise method is quite simple and easy, you can also make it with other fruit flavor following the same recipe.
Ingredients:
8-inch tart shell
For Blueberry Sauce :
375 gm blueberries
4 tbsp sugar
4 tbsp lemon juice
2 tsp vanilla extract
For Filling :
½ cup caster sugar
1 tsp vanilla extract
½ cup cream cheese
1 cup whipped cream
2 tbsp lemon juice
1 tbsp lemon zest
Procedure:
1. To prepare sauce, place the blueberries, lemon juice, and the sugar into a medium saucepan and cook it for 5 mins. over medium heat.
2. After that remove the pan from heat and mix it with vanilla extract. Allow the mixture to cool to room temperature.
3. To prepare filling, in a large mixing bowl beat together cream cheese and caster sugar till become fluffy.
4. Then add lemon juice, lemon zest and vanilla and beat again to mix.
5. In the end fold the cream cheese batter with whipped cream using spatula and then pour it onto the pie shell. (Before this place the pie shell into the suitable pie dish.)
6. Then spread the prepared blueberry sauce onto the filling and refrigerate it for at least 4 hrs. or overnight till become it firms and sets well.
photo source : 1