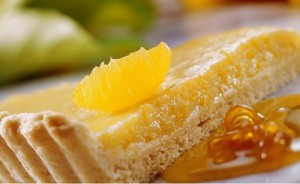 Preparation time : 80 mins. (approx.) | Serves 6 persons
This orange pie recipe is prepared with shortbread crust dough which is quite crispy and soft. It has also lemon flavor which enhances its flavor.
Ingredients:
1 tsp vanilla
1 tsp finely grated orange peel
3 tbs orange juice
5 eggs
2 tsp flour
1½ cup sugar
2 tsp finely grated lemon peel
1 tbs lemon juice
¼ cup creme fraiche
2 tsp fine cornmeal
½ cup unsalted butter
For Shortbread Crust :
1 cup flour
1/4 cup sugar
1/2 tsp salt
6 tbs unsalted butter
1/2 cup cornstarch
1 egg yolk
2 tbs water
Procedure:
1. HeaT oven to 350 degrees.
2. To prepare shortbread crust, in a mixing bowl, combine dry ingredients together including flour, sugar, salt and starch and then mix it with butter to make soft crumbs.
3. Whisk together egg yolk and water and then mix it with the crumbs mixture. When all ingredients incorporate well, wrap it into the plastic sheet and refrigerate for 20 mins. to make it form.
4. After that crumble the shortbread dough and press it tightly over the surface of 9-inch pie dish.
5. Place the parchment sheet or foil paper to put some weight. Bake it in preheated oven for just 15 mins. then remove the weight and parchment sheet and bake again for 8-10 mins to make it little brown.
6. In order to prepare filling, beat together sugar, butter, and a pinch of salt until light and fluffy. Add eggs gradually and beat again.
7. Add flour and cornmeal, mix until incorporated, then add orange food color.
8. In a bowl, whisk together creme fraiche, orange and lemon juices and peels and vanilla.
9. Then combine the butter mixture and cream mixture together and pour it onto the prepared crust. Bake it for at least 40 mins. till it set completely.
10. You can serve this orange pie with topping of candied orange.
photo source : 1