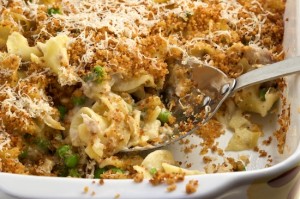 Preparation time : 40 mins. | Serves 6-8 persons
This tuna noodle casserole recipe is prepared in a very simple fashion and its taste is mainly dominated with cream of mushroom soup. In this recipe lemon pepper seasoning is used to give it extra flavor which you can replace with your own favorite seasoning.
Ingredients:
2 cup condensed cream of mushroom soup
7 oz mushroom pieces (drained)
8 oz Neufchatel cheese or rich cheddar cheese
6.75 oz tuna fillet (drained)
2 tsp lemon pepper seasoning
1 cup frozen peas
2 cup cooked rotini pasta
Croutons for topping
Procedure:
1. Cook cheese and soup together in a pan till cheese completely dissolves in the soup.
2. Then add seasoning og lemon pepper, tuna, mushrooms and peas. Cook the mixture over medium heat for 10-15 mins.
3. Now take a suitable casserole dish spread pasta over the dish then pour the prepared batter onto the pasta and then top with croutons. Bake the casserole in preheated oven for just 15 mins. at 375 degrees F.
photo source : 1