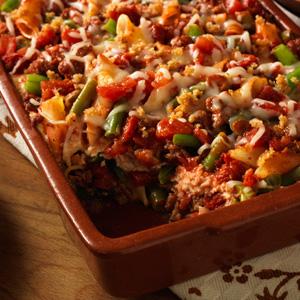 Preparation time : 50 mins. + chill time | Serves 8 persons
This Italian casserole is prepared with lots of flavors including spaghetti, spinach, mushroom, sausages and ricotta cheese. thus become perfect complete meal for a dinner or lunch. You can add or remove ingredients according to your taste for instance; in this recipe generally people omit cream of mushroom soup to make it more lighter.
Ingredients:
8 oz spaghetti (cooked and drained)
10 oz chopped spinach (thawed and drained)
1 can cream of mushroom soup (undiluted) (optional)
1 clove garlic (minced)
½ tsp marjoram
¼ tsp dried tarragon
¼ tsp salt
¼ tsp pepper
1 lb Italian sausage
1 large onion (chopped)
1 egg (beaten)
16 oz Ricotta cheese
1 tomato (chopped)
Fresh parsley (chopped) for garnishing
Procedure:
1. Combine spinach with mushroom soup, garlic, marjoram, tarragon, salt and pepper.
2. Cook sausage and onions in an skillet with 2 tbsp of oil until browned and stirring to crumble.
3. Take a deep casserole dish, spread spaghetti, spoon spinach mixture over it and then sprinkle sausage mixture over spinach mixture.
4. Combine egg and Ricotta cheese in another bowl and then spread it over sausages.
5. Cover and chill for overnight then bake after cool it to room temperature for 35 mins. at 375 degrees F. Serve the hot Italian casserole with topping of tomato and parsley.
photo source : 1