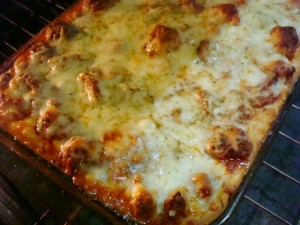 Preparation time : 40 mins. | Serves 8 persons
This Meatball Casserole recipe is prepared with pizza crust or crescent roll dough along with cream cheese and pasta sauce flavor added awesome taste to turkey meatballs. The casserole is quite simple and easy you may also prepare this recipe with spaghetti base instead of dough crust.
Ingredients:
13.8 oz pkg pizza crust or 2 can crescent roll dough
8 oz cream cheese
32 oz pasta sauce or arrabiata sauce
3 cup Italian turkey meatballs (if large cut into halves)
8 oz shredded mozzarella cheese or as required
1 tsp oregano
Procedure:
1. Preheat oven to 400 degrees F.
2. Unroll pizza dough or spread crescent roll dough at the base of a greased casserole dish.
3. Spread cream cheese onto the dough evenly, then spread half of the pasta sauce.
4. Place meatballs onto the sauce and then spread remaining sauce (if you feel sauce is enough then keep the extra sauce aside).
5. Sprinkle mozzarella cheese and oregano on top and bake in preheated oven for about 30 mins. or until gets light brown from top.
photo source : 1