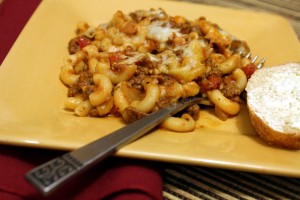 Preparation time: 50 mins. | Serves 6 persons
This is an easy recipe for making goulash. Instead of cooking goulash in traditional fashion this method of Baked Goulash is an easy and simple way. You can prepare this recipe with your favorite vegetables as well.
Ingredients:
2 lb ground beef
½ lb sliced mushrooms
1 small onion (chopped)
1 tbsp chopped garlic
28 oz spaghetti sauce
1 tsp salt
½ tsp black pepper
8 oz uncooked elbow macaroni
½ cup water
1 cup shredded mozzarella cheese
Procedure:
1. In a large skillet, cook together ground beef, mushrooms, onion, and chopped garlic over medium-high heat for about 10 mins. or until beef turns brown in color.
2. Drain excess fat and liquid from the cooked mixture and add the remaining ingredients except for cheese and mix well.
3. Put the beef mixture into the greased casserole dish, cover it, and bake in preheated oven at 350 degrees F for 25 mins.
4. After that remove the cover, spread the mozzarella cheese on top, and again bake uncovered for 15 mins. or until cheese completely melts and starts bubbling.
photo source : 1