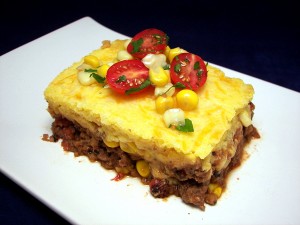 Preparation time : 45 min | Serves 6 persons
This recipe for Mexican casserole is also known as Mexican hamburger casserole just because of its topping which is prepared with crumbly mixture of flour, cornmeal, egg, oil and milk. You can also add salsa as a separate layer but its actual flavor develops only with the crumbly mixture and Mexican cheese.
Ingredients:
1½ lb ground beef (leaned)
15 oz Mexican-style diced tomatoes
1 cup frozen whole kernel corn (thawed)
¾ cup Mexican cheese blend (finely shredded )
½ cup all-purpose flour
½  cup yellow cornmeal
1 tbsp sugar
1¼ tsp baking powder
1 egg (beaten)
2/3 cup  milk
2 tbsp cooking oil
For Fresh Tomato Toss
1 cup red grape tomatoes (halved)
¼ cup cilantro (coarsely chopped)
½ cup corn
1/3 cup green olives (halved)
Salt to taste


Procedure:
1. Preheat oven to 350 degrees F.
2. In a skillet cook ground beef until become dry and brown.
3. Add tomatoes and 1cup of corn and cook over high heat for just 2 min.
4. Transfer this mixture to the casserole dish and sprinkle ½ cup of cheese over the beef mixture.
5. To prepare corn bread topping combine flour, cornmeal, sugar, baking powder, and ½ teaspoon salt. Mix with beaten egg, milk and oil and then spread this mixture onto the cheese layer and then top again with remaining cheese.
5. Bake the casserole in preheated oven for 30 min until topping is set, then take it out from oven and let it cool to room temperature before cutting into pieces otherwise it would be difficult to make pieces.
6. Meanwhile baking prepare fresh tomato toss for that you need to mix together all the ingredients mentioned to prepare fresh tomato toss.
7. Just before serving top each piece with fresh tomato toss.
photo source : 1