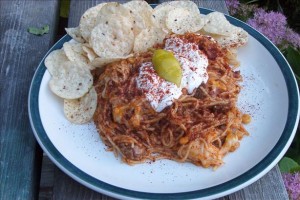 Preparation time : 40 min. | Serves 6 persons
This Taco Spaghetti recipe is prepared with lots of flavor including taco seasoning, salsa, chilies, cheese, etc. thus become a wonderful hot spicy spaghetti which is entirely different form other spaghetti recipes. You may also add sour cream at the time of serving to make it more appealing for others.
Ingredients:
5 oz spaghetti (broken)
1 lb ground turkey
1 large onion (chopped)
¾ cup water
2 tbsp taco seasoning mix
11 oz kernel corn (drained)
1 cup ripe olives (sliced pitted)
1 cup shredded cheddar cheese
½ cup salsa
1 4 oz diced green chilies (drained)
6 cup shredded lettuce
1 cup broken tortilla chips
1 medium tomato (cut into thin wedges)


Procedure:
1. Cook spaghetti according to the package instructions.
2. In a skillet cook ground turkey and onion until all the water from the meat would release and it turn into brown in color.
3. Dissolve taco seasoning in water and then add it to the meat and onion mixture, cover the skillet and cook over medium heat till it starts boiling then uncover and cook thoroughly for just 2 min over high heat.
4. Remove the pan from heat and stir it with remaining ingredients including cooked pasta, corn, olives, half of the shredded cheese, the salsa, and chilies.
5. Transfer the mixture to the casserole dish, sprinkle with remaining cheese and bake in preheated oven at 350 degrees F for 15-20 min.
6. Serve the hot taco spaghetti with shredded lettuce, tortilla chips, and tomato wedges.
photo source : 1