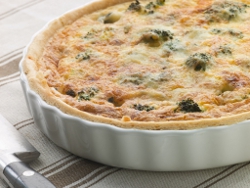 Preparation time : 40 min + Resting time | Serves 6 persons
This yummy strata recipe is taken from Mexican cuisine having combine spicy, salty, and crunchy flavor. You can also add salsa instead of putting separate veggie layer but addition of jalapeno makes this strata recipe more delicious.
Ingredients:
6 corn tortillas
4 oz green chilies (drained and chopped)
1 bell red or yellow pepper (diced)
1 cup pepper Jack cheese (grated)
1 cup cheddar cheese (grated)
¼ cup green onions (diced)
2 eggs (beaten)
1½ cup milk
1 tbsp cumin powder


Procedure:
1. Take a greased round baking dish, and make a layer of tortillas at the base of the dish.
2. Now start making layer of rest if the ingredients one by one for instance; sprinkle Jack and cheddar cheese over the tortilla layer, then spread chilies, onion and bell peppers one after other.
3. In a separate bowl combine egg, milk, cumin powder and salt and whisk together. Pour this batter over the prepared baking dish, cover the dish with lid or gelatin sheet and refrigerate for overnight.
4. After that bake in preheated oven at 350 degrees F for 30 min until the strata is slightly puffed and bubbly. Then cool it to room temperature and cut into pieces for serving.
photo source : 1