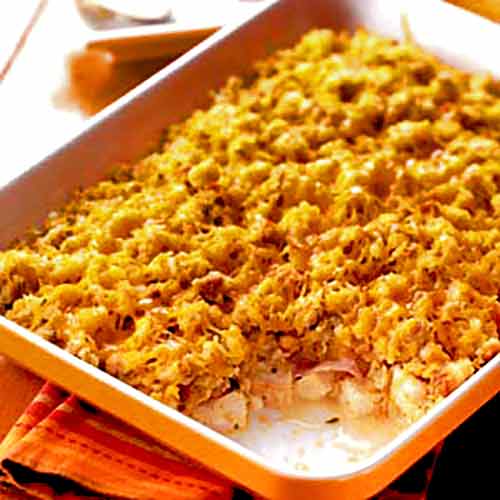 Preparation time: 40 mins. | Serves 8 persons
This Chicken Cordon Bleu Casserole Recipe is prepared with multiple layers including rice, cooked chicken, cheese, pepperoni, cream of chicken soup, and some salty crumbs topping. This casserole is a complete meal that contains rice, chicken, and soup, so you can serve it as a main dish for dinner or lunch.
Ingredients:
2 cups white rice
3 cups cooked chicken
6 Swiss cheese slices
Pepperoni slices (as required)
2 cans cream of chicken soup
½ cup milk
½ cup Greek yogurt
10 saltines (crushed)
½ tsp paprika
¼ tsp garlic powder
Procedure:
1. Take a greased rectangular casserole dish, spread white rice at the bottom, then make a layer of cooked chicken over it, make a layer of cheese slices, and then place pepperoni slices to cover the cheese later.
2. In a mixing bowl, combine cream of chicken soup, milk, and Greek yogurt and mix well.
3. In another bowl combine saltines, paprika, and garlic powder and toss them well.
4. Now pour the soup mixture over the filled casserole dish and then sprinkle the saltine mixture on top.
5. Bake in preheated oven at 350 degrees F for 30 mins. or until becomes golden brown and starts bubbling.