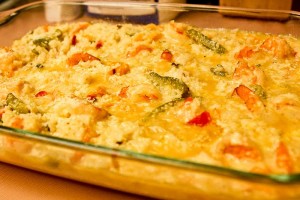 Preparation time : 50 min. | Serves 6 persons
This shrimp casserole is one of a rich casserole recipe having lots of flavors including veggies, soup, cream, cheese and rice. In this recipe cream of shrimp soup is used which you can replace with cream of mushroom soup as well. If you like only shrimp flavor in the casserole then you should try shrimp parmesan recipe.
Ingredients:
2 lb large fresh shrimps (cleaned and remove vein)
¼ cup butter
1 small red onion (chopped)
½ cup red bell pepper (julienne)
½ cup yellow bell pepper (julienne)
½ cup green bell pepper (julienne)
4 large garlic cloves (minced)
1 tbsp lemon juice
1½ tsp salt
10.75 oz cream of shrimp soup
1 tbsp soy sauce
½ tsp cayenne pepper
3 cup cooked long-grain rice
¼ cup grated Parmesan cheese
Procedure:
1. In a skillet melt butter, saute onion with bell peppers, lemon juice, salt and garlic until become tender, it would require 5 min.
2. After that add shrimps and cook till shrimps turn into pink color.
3. Now add soup with soy sauce, cayenne pepper and rice and cook until blended.
4. Now pour the mixture onto the casserole dish and sprinkle Parmesan cheese on top, place the dish in preheated oven for 15-20 min at 350 degrees F until become light brown from top.
photo source : 1