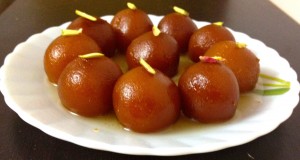 Preparation time: 20 mins. | Serves 24-30 gulab jamun balls
Gulab Jamun is the most popular sweet of South Asian cuisine, it is prepared usually with browned ricotta cheese or brown khoya. Milk powder can also be used instead of khoya to make the gulab jamun and here is given the Gulab Jamun Recipe with Milk Powder which tastes almost similar to the old-fashioned gulab jamun.
Ingredients:
2 cups full cream milk powder
2 tsp baking powder
1 tbsp flour
2 tbsp melted butter or clarified butter
2 eggs (lightly beat)
Clarified butter or oil for deep frying
Chopped pistachio for garnishing
For Syrup:
2 cup sugar
3 cup water
Pinch of yellow food color
2 green cardamoms
Procedure:
1. To make syrup cook all the ingredients of syrup together in a heavy saucepan over medium heat until the sugar dissolves completely. It would take 8-10 mins.
2. Meanwhile prepare balls for the gulab jamun, in a mixing bowl, and sift together dry ingredients including milk powder, baking powder, and flour.
3. Add clarified butter to the mixture and mix well.
4. Now slowly add beaten eggs to the mixture to make a soft dough. The dough will be sticky, you can make balls by lightly greasing your hands. The balls should be small in size similar to small lemon balls. Place these balls onto the greased platter.
5. Heat clarified butter for deep frying in a wok to moderate temperature, don't overheat the butter as it will burn the balls.
6. Now add the prepared balls into the melted butter for frying, keep the flame to low, and stir the butter only to evenly brown the balls. The balls will become double in size and appear on the top surface of the butter.
7. When the balls become brown in color, transfer them to the prepared syrup and cook for 5 mins. in the syrup.
8. Take out the gulab jamun balls into the serving platter with a little syrup and garnish with chopped pistachio.
photo source : 1