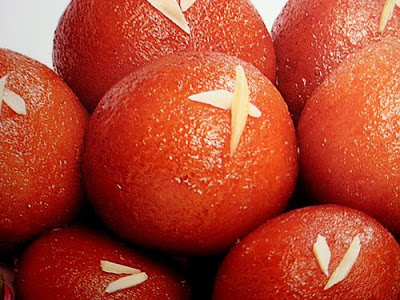 Preparation time : 30mins | Serve 10 persons
South Asian sweets are popular in the world and Gulab Jamun is one them. It is of two types ,one is light brown in color which is very soft and delicious while the other one is black. The main ingredients are milk solids which are brown in color but if you can not find it then you can aslo make Gulab Jamun by using milk powder which is also very easily available.

Ingredients:
2 cup powder milk
3 tbspn Semolina (suji)
2 tbspn plain flour
3 tbspn oil
3 tbspn cream
2 tspn baking powder
1 egg
Oil for deep frying
1 cup water
2 cup sugar
Procedure:
1. In a bowl, mix milk powder, plain flour, semolina, baking powder, oil and cream.
2. Knead the dough using egg, make sure the dough is smooth otherwise you're the gulab jamun balls will remain hard from inside.
3. Make small and smooth balls of lemon size.
4. Heat oil in a deep pan, on low heat fry the balls and stir constantly so that they cook evenly.
5. Make sugar syrup using 1 cup water and 2 cup sugar.
6. Put all the balls in the syrup and cook on medium low heat till syrup bubbles starts to rise on top.
7. After it, put the balls in a bowl to serve.
Servings:
Sprinkle some almond and pistachio on the top of balls. Delicious gulab jamun is ready to serve.