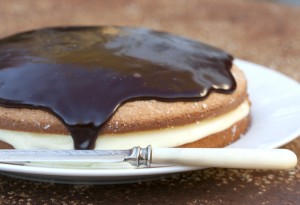 Preparation time: 50 mins. (approx.) + Refrigeration time | Serves 6 persons
This is the Best Boston Cream Pie Recipe prepared with yellow cake mix, vanilla pudding, and delicious chocolate sauce. The sponge of the pie can also be prepared at home with a plain cake recipe. This cake pie can be served as a main dessert course for a dinner party.
Ingredients:
1 pkg. yellow cake mix
1 cup cold milk
1 pkg. vanilla instant pudding mix
1½ cups whipped cream (thawed)
4 squares of semi-sweet chocolate
Procedure:
1. Prepare cake batter according to the package instructions.
2. When the cake has been done, cool it to room temperature and then divide it into two layers.
3. In a mixing bowl, whisk together instant vanilla pudding and milk until well blended.
4. Add ½ cup of the whipped cream to the pudding batter and mix well.
5. Now in a mixing bowl, combine the remaining cream with the chocolate and place the bowl onto the steamed water to melt the chocolate completely and the mixture becomes smooth.
6. When chocolate melts completely, stir well and keep it aside to thicken.
7. Meanwhile spread the pudding batter onto the top or the bottom layer of the cake and make it even using a spatula.
8. Place the top half of the cake onto the pudding topping and then drizzle the prepared chocolate sauce on top.
9. Refrigerate the Boston Cream Pie for at least 30 mins. to set the filling and topping and then serve.
photo source : 1