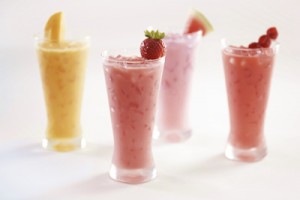 This Italian Cream Soda recipe is prepared with strawberry flavor and full creamy texture. You may also prepare different flavor cream soda by adding various fruit syrups like watermelon, mango, blueberry, etc.
Ingredients:
3 tbsp strawberry syrup (or any fruit syrup)
3 tbsp half & half
1 cup crushed ice
12 oz soda water (chilled)
Whipped cream for topping
Strawberry slices for topping (or relative fruit slices)
Procedure:
1. In a serving glass combine strawberry syrup with half and half and stir well.
2. Add in crushed ice and pour chilled soda water.
3. Top the drink with some whipped cream and strawberry slices and serve.
Note:
You may also eliminate half and half if you want light drink, in that case half fill glass with crushed ice add some fruit syrup along with soda water and serve with topping of whipped cream or ice cream.
photo source : 1