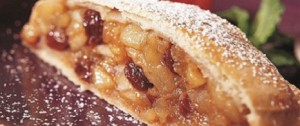 Preparation time : 30 mins. | Serves 8-10 persons
Apple Strudel Recipe is prepared with peaches, lemon and raisin flavor stuffing. In some other recipes Apple stuffing is slightly cooked and make it thicken by adding cornstarch and also in some recipes apple pie filling is used to make it easy and quick.
Ingredients:
1 lb puff pastry
1 egg
3–4 apple (peeled and cubed)
2 peaches (peeled and cubed)
4 oz sugar
2 tbsp lemon juice
4 oz raisin (soaked in water for 1-2 hrs.)
½ tsp cinnamon powder
Icing sugar as required
Procedure:
1. To prepare stuffing, combine apples, peaches, raisins, cinnamon powder, lemon juice and sugar and mix them well.
2. Dust the pastry dough with flour and then roll it to a square shape of thickness around ½". Then cut it into four rectangular pieces.
3. Now spread ¼ of the prepared apple stuffing onto one of the piece leaving 1" from top, bottom and sides. Brush the blank sides with beaten egg.
4. Place another rectangular piece of dough onto the stuffing and press it using fork from the edges to seal the stuffing. Also brush the top with remaining beaten egg.
5. Similarly prepare another strudel. After that place both of the stuffed strudel onto the greased baking tray and bake in preheated oven for 20 mins. at 350 degrees F.
6. When the apple strudel are done or become golden crisp from top then take it out from oven, let it cool to room temperature, cut into slices and then sprinkle icing sugar on top.
photo source : 1