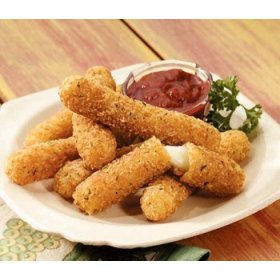 Preparation time : 30 min. | Serves 4 persons
This mozzarella sticks recipe is served with delicious tomato sauce whose recipe is mentioned below. You can add seasoning of your own choice in the flour to get some more flavors in fried mozzarella sticks. Serve these fried sticks hot with the prepared sauce.
Ingredients:
Oil for deep frying
16 oz mozzarella cheese
1 cup flour
1 tsp chicken powder
2 eggs (beaten)
2 cup panko bread crumbs
For Sauce:
2 to 4 tbsp olive oil
1/3 cup diced sweet onion
3 cloves garlic (crushed)
6 oz tomato paste
1 can organic diced tomatoes
1 tbsp red chili flakes
Salt and black pepper to taste
Procedure:
1. Preheat oil in a deep fryer to 350 degrees.
2. Cut cheese block into small triangular pieces.
3. Sift together chicken powder and flour.
4. Now coat the cheese with flour, and then dip in egg and then coat with crumbs. Similarly prepare rest of the cheese.
5. Now deep fry cheese sticks in the preheated oil until become light golden brown in color from every side.
6. To prepare dipping sauce, sauté onion and garlic in sauce pan until become tender.
7. Add tomato paste and canned tomatoes, red chili flakes and salt and pepper and cook on medium heat until the sauce starts bubbling and all flavors blend well.
8. When sauce gets thick take it out in serving bowl and serve with the prepared mozzarella sticks.