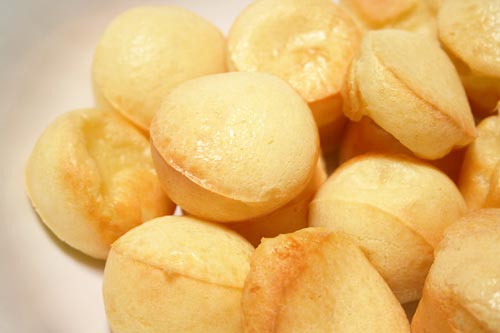 Preparation time: 25 mins. | Serves up to 30 puffs
These Brazilian cheese Puffs are prepared with Queso Fresco cheese which is light and milky in flavor. You may also use other cheese in place of the queso fresco like mozzarella and parmesan. These puffs are very light fluffy and naturally gluten-free.
Ingredients:
1 egg
1/3 cup vegetable oil
1 cup milk
2 cups tapioca flour
1 tsp salt
5 oz Queso Fresco cheese (crumbled)
Procedure:
1. Combine egg, vegetable oil, and milk in a bowl, pour this mixture into the blender, and then add tapioca flour and salt. Process in the blender until the batter becomes smooth.
2. Then add crumbled queso fresco cheese and give a few pulses so that the cheese is evenly mixed into the batter.
3. Now take a mini muffin pan, grease it with oil, and then fill each cup with batter up to ¾ level.
4. Place the pan in preheated oven at 400 degrees F for 12-15 mins. until become lightly golden from the top.
5. You can serve these Brazilian Cheese Puffs either warm or at room temperature.
photo source : 1