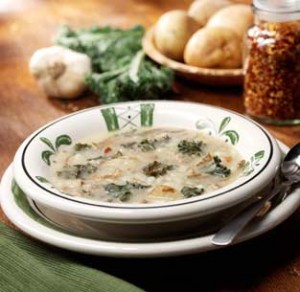 Preparation time : 40-50 min | Serves 6 persons
This is a slightly modified recipe of the original Zuppa Toscana recipe from Olive Garden restaurant. This is one of a healthy meal that contains two types of meat; chicken and beef along with sme vegetables. Try this unique recipe and enjoy the restaurant flavor at home.
Ingredients:
1 tsp crushed red peppers
1 large diced white onion
4 tbsp cooked chicken pieces
2 tsp garlic paste
10 cup water
5 chicken cubes
1 cup heavy cream
3 large potatoes
1 bunch of borecole
¼ cup vegetable oil
For Italian Beef Sausage:
1 lb ground beef
½ tbsp salt
½ tbsp ground fennel seed
¾ tbsp sweet paprika
½ tbsp finely minced fresh garlic
½ tbsp sugar
½ tsp black pepper
3 tbsp apple vinegar
Procedure:
1. Combine all the ingredients mentioned for making sausage and then make elongated shapes of 2-4 inch size.
2. Place these sausages into the pan and sealed tightly with gelatin sheet. Refrigerate for at least 12 hrs. It is better to stuff the sausage mixture into the sausage funnel so that perfect shape would form.
3. Sautee prepared Italian beef sausage in 2 tbsp with crushed red pepper in a sauce pan. When the sausages get dry, transfer it into platter and refrigerate until prepare the rest of the recipe.
4. In the same pan, sauté chicken pieces in remaining oil with onions and garlic until chicken would become light brown in color.
5. Dissolve chicken cubes in water and add it to the cooked chicken and let it boil.
6. Add potatoes and cook until become soft; it would take 20-30 min.
7. After that add heavy cream and cook on high heat till boiling.
8. Remove the pan from heat, add sausages and borecole and stir well. Delicious Olive Garden Zuppa Toscana is ready to serve hot.
photo source : 1