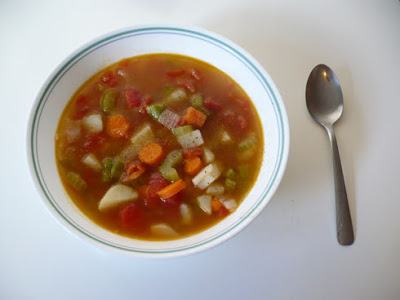 Preparation time : 35 mins | Serves 6-8 persons
This is one of the healthy vegetable soup recipe which is prepared in a very short time. Use of chicken stock make this soup more delicious and healthy. This vegetable soup can be served with brown bread.

Ingredients:
1/4 cup olive oil
1 yellow onion diced
1 leek sliced thinly
1 head of celery diced
2 cups of carrots diced
2 cans of diced tomatoes
1 cup of green beans
1 1/2 cup of diced potatoes
3 quarts of chicken stock
1 tbsp minced garlic
1 tbsp dry basil
1 tsp dry parsley
Salt and pepper to taste
Procedure:
1. In a frying pan, saute vegetables olive oil including onion, celery, leeks and carrots in on a medium flame for 2-3 mins
2. Now add garlic, basil and parsley to the vegetables and cook for further 3 or 4 minutes.
3. After that, add water, diced tomatoes, potatoes, green beans, salt and pepper and simmer for 30 minutes.