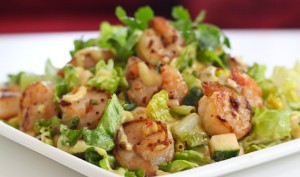 Preparation time : 20 mins. + Marinating time | Serves 6 persons
This grilled salad recipe is prepared with grilled shrimps, famous cucumber salad and special celery dressing, thus become delicious. It would be the complete summer meal for lunch and you can make variations by adding your favorite salad vegetables.
Ingredients:
For Dressing:
3 tbsp fresh lemon juice
1 tbsp Dijon mustard
¼ cup olive oil
1 celery stalk thinly sliced
⅛ tsp salt
⅛ tsp pepper
For Cucumber Salad:
1 cucumber (halved, seeded and diced)
1 shallot (thinly sliced)
¼ cup of apple vinegar
2 tsp sugar
2 green onion (thinly sliced)
1 tsp mustard seed
1 tsp pepper corn
1 head Romaine lettuce (chopped)
⅛ tsp salt
⅛ tsp pepper
For Shrimp:
18 medium shrimp (peeled and deveined)
3 key limes (zested)
1 yellow onion (sliced)
1 bunch cilantro
3 cloves garlic
½ cup olive oil
¼ cup lemon juice
Salt and pepper to taste
Procedure:
1. To prepare dressing, mix together first five ingredients and set aside.
2. To prepare veggies for salad, Mix oil, vinegar well, sugar, peppercorn, mustard seeds, salt and pepper, then add veggies and toss well. This is called cucumber salad
4. To make shrimps, marinate shrimps with ingredients mentioned above for an hour.
5. Then heat a grill pan with little bit of oil and cook shrimp for 2 mins. on each side.
6. Now do the assembling, take a large salad platter, spread the cucumber salad and top with shrimp, then in the end drizzle with the prepared dressing of celery.
photo source : 1