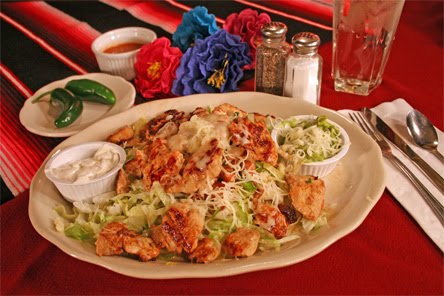 Preparation time : 10 mins. + 1 hr. Marination time | Serves 2 persons
This fajita salad is prepared with salad greens and Italian dressing, the chicken would give much better flavor if it is marinated overnight and then cooked on grill. In this recipe melted cheddar cheese is used with the chilled salad, you may also used shredded cheese with this salad according to your taste. Serve this delicious recipe of salad with garlic bread.

Ingredients:
1 cup Italian dressing
1 tsp cumin
1/2 tsp hot pepper sauce
250 gm boneless chicken (strips)
1/2 cup onion (sliced)
1/2 cup cheddar cheese (shredded and melted)
3 cup salad greens
2 cups crushed tortilla chips (optional)

Procedure:
1. Prepare marinate for chicken fajita by mixing cumin, hot pepper sauce and Italian dressing. divide this marination into two equal parts.
2. Marinate chicken in half of the above marinade and leave it for at least 45 mins.
3. In a sauce pan fry the marinated chicken for 5-8 mins until all the water of chicken would get dry and become light brown. After that remove it from heat.
4. Now mix rest of the dressing in the veggies and tortilla chips.
5. Add the cooked chicken pieces into the veggies mixture and keep the salad in fridge to chill for 3-4 hrs.
6. After that pour the melted cheese onto this fajita salad and then serve.