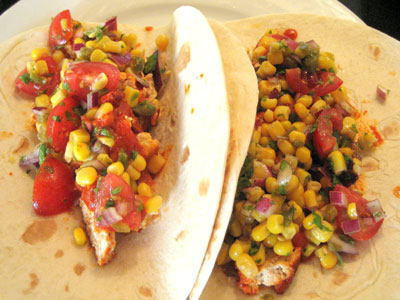 Preparation time : 25 mins. | Serves 4 persons
This recipe of
Mexican corn
is less spicy as compare to other Mexican foods. In this recipe only green chilies are used instead of cayenne pepper. Pimiento also enhances its flavor and give it bit sweet flavor. You may also add salsa or mix vegetables to make this Mexican corn more delicious.
Ingredients:
4 tbsp margarine
4 tbsp onion (finely chopped)
4 tbsp green pepper (chopped)
1 cup frozen corn
1/4 cup pimiento (diced)
1 cup chicken stock
1/2 tsp salt
1/4 tsp pepper
For Garnishing:
Chopped tomatoes
Chopped onions
Chopped parsley

Procedure:
1. In a sauce pan melt margarine over low heat then add onions to saute for 2 mins until become pink in color.
2. After that add green peppers and corn ans stir for 2-3 mins. more.
3. Then add a cup of stock, salt and pepper and simmer for 10 mins. until corn become tender.
4. After that add pimento and mix it well with the corns. When stock would get dry remove the pan from heat after 1-2 mins and then serve this hot Mexican corn with noodles or tortillas.