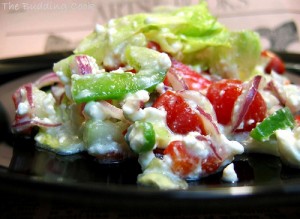 Preparation time : 10 mins. + 1 hr. Chill time | Serves 2-3 persons
This cottage cheese salad is no more different from other vegetable salad except it has an added flavor of cottage cheese. The method of preparing this salad is quite easy and gives good taste only when it is served cold. You may also add labneh to give som extra curd cheese flavor.
Ingredients:
½ lb of grated cottage cheese
½ cup of mayonnaise
2 stalks celery (diced)
1 green bell pepper (thinly sliced)
1 red bell pepper (thinly sliced)
2 cucumber (diced)
Cherry tomatoes (halved)
Salt and pepper to taste
2-3 large lettuce leaves
4 tbsp lime juice
1 tbsp honey
Procedure:
1. In a mixing bowl, combine mayonnaise, lime juice, honey, salt and pepper and mix well.
2. Take a large salad bowl and add all the veggies along with cheese and mix it well with the prepared dressing. Chill it in fridge for at least an hour then serve.
photo source : 1