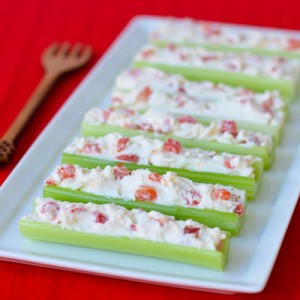 Preparation time : 10 mins. + 30 mins. Refrigeration time | Serves 6 sticks
This Stuffed Celery recipe is one of a healthy food can be served either as salad or as side dish. It is very healthy as it is prepared with low fat cottage cheese along with some nutritious ingredients. You may also add greek yogurt to the recipe to give some extra flavor.
Ingredients:
8 oz cottage cheese
2 tsp lemon juice
½ tsp light soy sauce
1 tsp mustard paste
1 tsp crushed red pepper
2 tbsp chives (chopped)
1 garlic clove (crushed)
6 celery sticks (leaves removed)
Pimento peppers to taste
Procedure:
1. Combine all ingredients in a mixing bowl and mix them well.
2. Now take a celery stick and make it hollow from center lengthwise and stuff the prepared cheese filling. Similarly stuff rest of the celery sticks and then refrigerate for 30 mins. just before serving.
photo source : 1