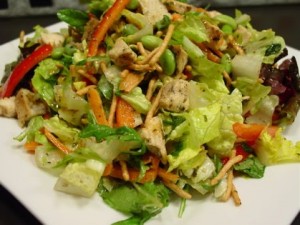 Preparation time : 5 mins. + 1 hour Refrigeration time | Serves 1 large bowl
This Japanese Salad recipe is prepared with pure Asian veggies like chinese cabbage, chives, etc. The dressing is quite easy and simple and addition of toasted sesame and almond flavor gives wonderful aroma to the salad. You can serve this salad with Japanese Meatballs also.
Ingredients:
For Salad:
6 cup chinese cabbage (chopped)
2 cup grilled chicken (cubed)
½ cup green onions or chives (chopped)
1 red bell pepper (julienne)
1 pckg chinese noodles (cooked)
For Dressing:
½ cup toasted slivered almonds
¼ cup toasted sesame seeds
½ cup salad oil or extra virgin olive oil
3 tsp white vinegar
1 tbsp sugar
1 tsp salt
¼ tsp black pepper
3 tbsp soya sauce
Any flavor of noodle seasoning to taste
Procedure:
1. Combine veggies in a large bowl.
2. In another mixing bowl, whisk together dressing ingredients.
3. Pour salad dressing onto the veggies and toss them well. Refrigerate for at least an hour.
4. Just before serving add noodles and mix.
photo source : 1