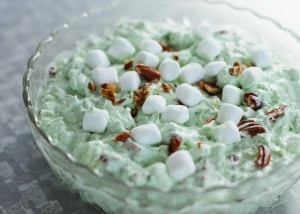 Preparation time: 5 mins. + 1 hr. Refrigeration time | Serves 1 medium bowl
This Pistachio Pudding Salad is entirely different from other salads and it can be served as a frozen dessert too. This pudding salad has a dominant taste to the pistachio pudding mix along with pineapple chunks and miniature marshmallows. The combination not only sounds cool but also a great summer salad.
Ingredients:
½ cup pistachio instant pudding mix
2½ cups crushed pineapple (with juice)
1 cup miniature marshmallows
1 cup cool whip
Chopped nuts for topping
Procedure:
1. In a mixing bowl, combine pistachio pudding mix, cool whip, and pineapple with juice and mix them well.
2. Then add marshmallows and fold them well with the pudding mixture.
3. Chill the pistachio pudding salad in the fridge for at least an hour then serve with the topping of chopped nuts.
photo source : 1