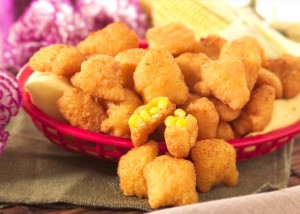 Preparation time: 20 mins. + 3 hrs. Freezing time | Serves 2 dozen nuggets
These Corn Nuggets are a wonderful appetizer or snack to enjoy the full flavor of corn. The recipe is quite different from other nuggets because you need to first freeze the kernel corn mixture and then fry it after dipping it into the particular cornmeal batter. You can also add different herbs seasonings or flavors to the corn mixture.
Ingredients:
1½ cups creamed corn
1½ cups whole kernel corn (drained)
½ cup parmesan cheese
½ cup yellow cornmeal
½ cup all-purpose flour
1 egg
½ cup soda water
Salt and pepper to taste
1 tsp paprika
Vegetable oil for deep frying
Procedure:
1. In a mixing bowl, combine together the creamed corn, kernel corn, and parmesan.
2. Take a baking tray or flat tray, line it with a parchment sheet, or grease it well with cooking spray.
3. Now drop spoonfuls of the prepared corn mixture onto the sheet and then freeze them for 2-3 hrs. until get firm.
4. In a large mixing bowl combine cornmeal, flour, egg white, soda water, paprika, salt, and pepper and make a smooth batter.
5. Heat oil for deep frying in a wok. After that dip each of the frozen corn nuggets into the batter and then put them into the wok for frying. Stir constantly during frying to give them an even golden brown color. It would take 3-5 mins. for frying.
6. Serve the hot corn nuggets with your favorite dip.
photo source : 1