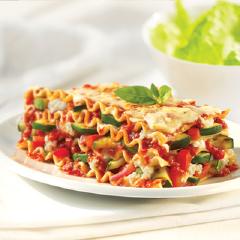 Preparation time : 60 min. (approx.) | Serves 6-8 persons
This recipe for vegetable lasagna is prepared with grilled veggies; therefore it has awesome combination of white sauce, marinara sauce and bbq flavor vegetables. To make good looking lasagna use enough white sauce while making layers so that it can cut easily into pieces and looks beautiful. If you try vegetable lasagna with different flavor then you must try paleo lasagna.
Ingredients:
1 package lasagna strips (cooked)
2-3 cup white sauce (or as required)
2 cup marinara sauce (or as required)
1 cup grated Mozzarella cheese
¼ cup Parmesan cheese
For Vegetables:
1 cup capsicum (cut in square pieces)
1 cup mushrooms (cut in large pieces)
1 cabbage (separate its layers and cut each in square)
1 cup onion (separate its layers and cut each in square)
1 cup potato (half boiled and cut in cubes)
1 tbsp crushed red chili
2 tbsp lemon juice
1 tsp crushed black pepper
1 tbsp soy sauce
Procedure:
1. Prepare vegetables by following the instructions here.
2. Divide white sauce into four equal portions, marinara sauce and mozzarella cheese into 3 equal portions.
3. In a lasagna dish spread a layer of white sauce at the bottom, place lasagna strips over the whole sauce again spread white sauce over the strips, pour marinara sauce, add grilled veggies over the sauce, sprinkle grated mozzarella cheese and then cover with the lasagna strips. Similarly make another batch of layers from noodles to cheese and in the end cover with lasagna strips pour remaining white sauce, marinara sauce and Parmesan cheese on top.
4. Bake for just 20-30 min in preheated oven at 350 degrees F.
5. After that take out the dish form oven and cool it to room temperature and then cut into pieces for serving.
photo source : 1