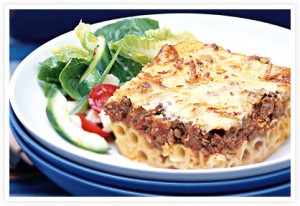 Preparation time : 90 mins. (approx.) | Serves 6-8 persons
This Greek Lasagna also known as Pastitsio and is prepared with penne pasta instead of lasagna strips. The remaining method is almost similar to to other lasagna recipes.
Ingredients:
1 1/2 lb ground beef
1 onion (diced)
2 tsp minced garlic
1/2 tsp ground cinnamon
1 cup tomato sauce
1/4 cup margarine
1/4 cup all-purpose flour
3 cup milk
12 oz penne pasta
2 eggs (lightly beaten)
1 1/4 cup grated Parmesan cheese
Procedure:
1. Add 2 tbsp of oil in a saucepan, saute garlic and onion then add ground beef and cook till become dry.
2. Then add tomato sauce and ground cinnamon and cook for 5-10 mins. over medium heat. Remove the pan from heat and let it cool.
3. Now in another saucepan, heat margarine add in flour and cook for 1-2 mins.
4. Gradually add milk and whisk continuously to mix well, simmer for 15-20 mins. to make it thick.
5. Boil pasta according to the package instructions.
6. Add beaten eggs to the ground beef mixture and mix well.
7. Take a greased casserole dish spread half of the pasta at the base, then spread beef mixture , again cover with remaining pasta, pour prepared white sauce and parmesan cheese on top and bake in preheated oven for 60 mins. at 350 degrees F.
photo source : 1