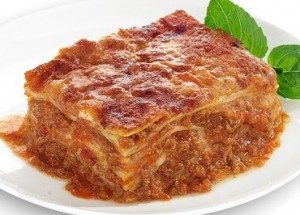 Preparation time : 2.5 hours. | Serves 12 pieces
This Lasagna Al Forno is another delicious food from Italian cuisine which is prepared in the same way as other lasagna with some different stuffing. In this recipe no more bechamel sauce is used, instead of this lots of cheese and amazing ricotta cheese herb mixture is used in the stuffing which increases its flavor.
Ingredients:
1 lb dried lasagna noodles
For Meat Mixture:
2-3 tbsp olive oil
1 onion (chopped)
2 cloves garlic (sliced)
2 tbsp fresh basil (chopped)
2 tbsp fresh oregano (chopped)
3 bay leaves
1½ lb ground beef
1 lb ground Italian sausage
6 oz tomato paste
For Cheese Mixture:
30 oz ricotta cheese
¼ cup parsley (finely chopped)
2 tbsp fresh oregano (chopped)
Salt and black pepper (to taste)
2 eggs (lightly beaten)
½ cup grated Parmesan cheese
For Assembling:
4 cups tomato sauce (prepared)
1 lb mozzarella cheese (shredded)
Grated Parmesan and mozzarella for topping
Procedure:
1. Boil lasagna noodles in salted water as per instructions mentioned on the package and coat with some oil after drained from water.
2. Grease a skillet with olive oil and saute onion, garlic, basil, oregano and bay leaves for just 4-5 mins.
3. Add ground beef and sausage and cook over medium heat till gets brown. Discard extra fat from the mixture.
4. Stir the mixture in tomato sauce and remove the skillet from heat.
5. Now prepare cheese mixture by mixing together ricotta, parsley, oregano, eggs, Parmesan and seasoning of salt and pepper.
6. In order to assemble lasagna al forno, make a layer of tomato sauce at the bottom, spread some of lasagna sheets in such a way that they cover the sauce from sides and base. Then spread half of the meat mixture over the pasta, pour half of the cheese mixture, sprinkle half of the mozzarella on top and then cover again with lasagna noodles. Repeat the pattern of layers; noodles, meat, cheeses and sauce. Cover again in the end with remaining lasagna noodles, sauce and shredded mozzarella and Parmesan. Tap the pan to force out air bubbles.
7. Place the lasagna dish into the preheated oven at 350 degree F 1 hour until gets brown and bubbly from top.
8.Then let the lasagna cool for 30 mins, at room temperature after removing from oven. and cut it into squares and serve immediately.
photo source : 1