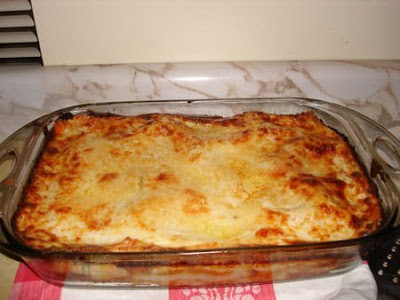 Preparation time 30-40 mins | Serves 6 persons
Lasagna is my favorite Italian food . It is cooked in different styles. The main ingredient of this recipe are lasagna strips or pasta , cheese and the meat filling. On the basis of this filling different varieties of lasagna are prepared. For cooking perfect lasagna , pan size must be appropriate

Ingredients:
9 Lasagna strips (as required)
3 tbspn oil
300 g minced beef
2 tbspn ginger and garlic paste
½ chopped onion
½ chopped tomato
½ chopped carrot (optional)
½ chopped capsicum (optional)
Pinch of oregano
Pinch of rosemary
1 tspn black pepper
1 tspn white pepper
1 cup tomato paste
Salt to taste
1 tspn crushed red chili (optional)
Parsley chopped as required.
White sacue as required
Procedure:
1. Heat oil in a pan, add ginger garlic paste and mince and cook till water starts to come from mince or its color changes to white. On other stove, boil lasagna strips ( it takes 10 minutes)
2. After 5-7 minutes, add all vegetables in it and cook for 5 minutes.
3. Now add seasoning; salt, pepper, oregano and rose merry and stir well.
4. Add tomato paste, mix well and cover it to cook for 5 minutes on medium flame.
5. When lasagna strips have been boiled drain out all the water and pour some cold water over it.
6. Now cook mice on high flame to dry all the water.
7. In a deep platter, spread 2-3 lasagna strips or according to the size of the platter to cover the base of it, spread pizza sauce over it, spread mince over it and do the same for 2nd layer and cover it with shredded cheddar cheese.
8. You can also use white sauce instead of pizza sauce.
9. Now place the lasagna platter in the microwave for 5-10 minutes until it turn into slightly brown in color from the top and cheese melts.
Note:
If you don't want to make it with beef you can also use mince chicken for this recipe.