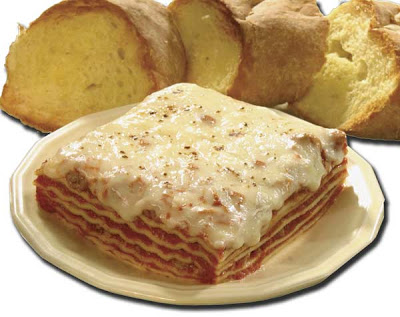 Preparation time : 15 mins | Serves 8 persons
Lasagna is an Italian food which is cooked in a variety of methods. This is a healthy cooking recipe of lasagna and its cooking has to be done in slightly different manner. This recipe is different than the previous recipe of lasagna that was posted earlier. I have used grilled chicken along with common sauces instead of white sauce because not all food lovers like white sauce specially those who prefer spicy flavors.

Ingredients:
For Chicken Marination:
1/2 kg chicken boneless (cut in small cubes)
1/2 tbspn ginger paste
1/2 tsbpn garlic paste
1 tbspn red chili powder (or as you required)
1/2 tspn turmeric powder
Salt to taste
3 tbspn lemon juice
500 gm yogurt
1 tbspn hot mix spices powder
1/2 tspn nutmeg and mace powder
1/2 cup cream
For Lasagna Assembling:
Pizza sauce as required
BBQ sauce as required
Cheddar cheese as required
Lasagna sheets as required
Procedure:
1. Marinate chicken pieces in the ingredients mentioned for marination and leave the marinated chicken pieces for half an hour so that all spices are absorbed in the chicken.
2. On the preheated grill pan, put the skewed chicken pieces and cook them on slow heat until they become tender and brown in color. Keep brushing the chicken pieces while grilling otherwise they will become dark from outside.
3. Now its time to assemble the lasagna dish, first place the boiled lasagna strips on the base of the baking dish so that all the base is covered, then place grilled chicken pieces on the strips and spread some pizza sauce and cheddar cheese over it. In the same way again make layer of lasagna strips, chicken pieces, BBQ sauce. In the end, cover the whole dish with lasagna strips and spread cheddar cheese as much as you like and put the dish in the preheated oven for just 5 mins at 180oC.
Note:
Turn on the upper flame of oven which is used for grilling purpose because we don't need to bake the dish all of the ingredients are cooked we only place it in the oven just to melt cheese and give the light golden color on the top.