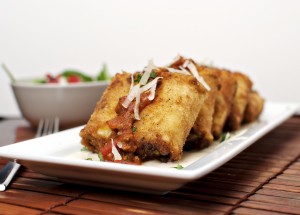 Preparation time: 30 mins. + 1 hr. freezing time | Serves 8 persons
Lasagna Fritta is another form of presenting lasagna casserole, this recipe is popular at the famous Olive Garden restaurant. Now here is its copycat recipe for the delicious Lasagna Fritta so you can easily try it at home.
Ingredients:
3-4 eggs
3-4 cup ricotta cheese (grated)
1¼ cup grated parmesan cheese
2 cups grated mozzarella cheese
2 tbsp Italian seasoning mix
1½ cups panko bread crumbs
Marinara sauce as required
Alfredo sauce as required
Oil for deep frying
Procedure:
1. In a mixing bowl combine ricotta, mozzarella, 2 eggs, Italian seasoning, and 1 cup of parmesan cheese and make a thick batter.
2. Boil the lasagna strips according to the package instructions.
3. After that place a lasagna strip onto the counter spread 2-3 tablespoons of cheese mixture onto the strip and start folding it to a 2" wide size. Similarly, make the rest of the lasagna rolls, place a plastic sheet onto the tray or platter, and horizontally place the prepared rolls on it. Put the tray into the freezer for an hour to make them firm.
4. In a mixing bowl, beat the remaining eggs and in another bowl combine the remaining parmesan with bread crumbs.
5. Heat oil for deep frying in a pan. Take out the lasagna rolls from the freezer in just 15 mins. before frying.
6. Carefully dip one of the rolls into the beaten eggs, then coat with the crumbs mixture and then put into the preheated oil for frying over medium heat. When the lasagna frittata gets golden brown take it out from the oil and place it onto the paper towel to drain the extra oil. Similarly, prepare the remaining frittata.
7. To serve the Lasagna Fritta make a layer of alfredo sauce at the base on the platter then vertically align the prepared frittata and then drizzle some marinara sauce on top. You may also sprinkle some grated cheese on top.
photo source : 1