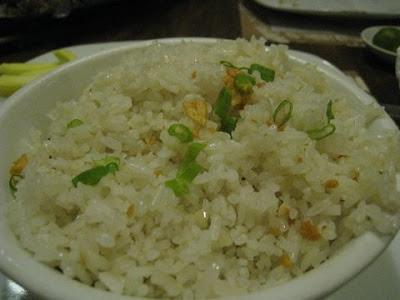 Preparation time : 30 mins |Serves 4 persons
Garlic rice is healthy and one of the easiest recipes to prepare with other dinner and lunch meals. This recipe has very few ingredients which are usually present at all homes. Due to the presence of garlic in this recipe, this meal becomes a healthy diet and will aid in reducing cholesterol. Try this healthy meal of garlic rice at home.

Ingredients:


2 cup rice
4 garlic cloves (finely chopped using stainless garlic presser)
1 cup spring onion (chopped)
4-5 green chilies (chopped)
Salt to taste
1 tspn black pepper
4 cup water or as required
2 tbspn oil



1. Boil water in a deep sauce pan. Put rice in it and let it boil, when rice become soft drain all the water from the rice.
2. In another deep pan, put some oil and fry chopped garlic for a minute.
3. Now fry garlic with spring onions and green chilies for 2 minutes.
4. Now put the boiled rice in the pan and mix all the fried ingredients well. In the mean while add flavor or black pepper and salt in the rice and fry on high flame for few minutes.
5. When the rice completely fry and smell starts to come out then take out the rice in a beautiful serving dish and serve it with any curry you like.