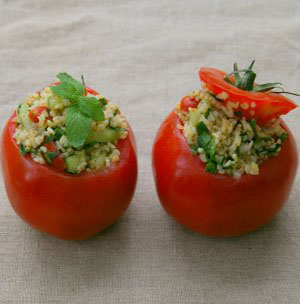 Preparation time : 30 mins. | Serves 4 persons
This
stuffed tomato recipe
can be presented as one of a salad item for any dinner party as it has no more spices are being used and looks very colorful. The main ingredient of stuffing is spinach and rice while others are flavor.
Ingredients:
4 large red tomatoes
5 large spinach leaves (cut stems)
1 tbsp pinenuts
5 tsp oil
1/2 cup rice
1 clove garlic (finely chopped)
1/4 tsp dry basil
Salt and pepper to taste
1 oz parmesan cheese
Procedure:
1. Cut the tip of each tomato and make it hollow by removing the flesh using teaspoon.
2. Cook spinach leaves with 1/4 cup water so that they become soft.
3. Roast pinenuts in little oil until become light brown in color.
4. In food processor make fine smooth mixture of spinach and pinenuts.
5. Boil rice with salt and make sure that rice would not become too soft, each grain should be looked separate.
6. Now mix all the ingredients and prepared stuff including boiled rice, blended spinach mixture, garlic, basil, salt and pepper.
7. Take a hollow tomato and fill 2-3 tablespoon of prepared stuffing into it and sprinkle parmesan cheese on top.
8. Now place all the stuffed tomatoes in a greased baking tray and place it in preheated oven to 350 degrees F for 15-20 mins.