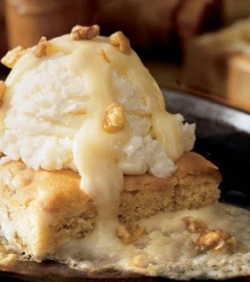 Preparation time : 70 min. | Serves 8 persons
This is a slightly modified recipe of the original Blondie recipe from Applebee restaurant. It is prepared in three steps; first a cake is prepared then prepare particular sauce having flavors of cream cheese and ice cream and in the end assemble with the prepared cake and frosting before serving.
Ingredients:
For Cake:
4 egg whites
1 stick margarine (softened)
½ cup light brown sugar
¼ cup granulated sugar
1 tsp vanilla extract
2¼ cups all purpose flour
1 tsp baking soda
½ tsp baking powder
¼ tsp salt
½ cup evaporated milk
8 oz white chocolate chips
½ cup chopped walnuts
For Sauce:
½ cup butter softened
½ cup powdered sugar
¼ cup cream cheese (softened)
2 tbsp maple syrup
¼ tsp salt
8 scoops vanilla ice cream
½ cup chopped walnuts
Procedure:
1. Preheat oven to 325 degrees
2. At first prepare cake for Blondie, in a large mixing bowl beat egg whites until stiff peaks are formed.
3. Add butter, brown sugar granulated sugar and vanilla extract to the egg whites and beat until become fluffy batter.
4. Sift together dry ingredients including flour, baking soda, baking powder and salt.
5. Gradually add dry mixture to the batter and mix using spatula until smooth batter would form.
6. Add milk, chocolate chips and walnuts to the batter and fold carefully.
7. Pour the batter into the greased baking pan of suitable size preferably 9×13 inch pan. Bake for 40-50 min until become golden brown from top.
8. Meanwhile prepare sauce for the Blondie, for that beat together cream cheese and butter until become smooth.
9. Add rest of the ingredients including sugar, maple syrup, salt, vanilla ice cream and walnuts and mix well. Refrigerate for 15 min to set.
10. When cake is done cool it room temperature and then top with the prepared Blondie sauce, serve the delicious Blondie by cutting into squares. You can also serve it on hot sizzling dish but for that you need to heat up the sauce for few minutes in microwave then top it on the cake which is placed on serving platter.
photo source : 1