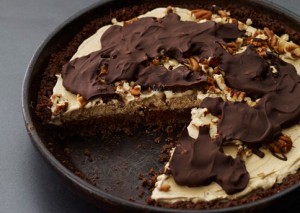 Preparation time : 60 min. | Serves 6 persons
This Mississippi Mud Pie recipe is prepared just like you prepare baked cheesecake, the difference between these two is the filling. In this mississippi the filling is prepared with chocolate sauce with creamy topping having coffee flavor. The chocolate cookies are used to prepare the crust of this pie which you can replace with any chocolate cookies or Oreo cookies to make it more delicious..
Ingredients:
4 tbsp butter
9 oz chocolate cookies
½ tsp salt
6 tbsp butter
3 oz unsweetened chocolate
3 eggs
1 cup sugar
3 tbsp corn syrup
1 tsp vanilla
1 cup whipped cream
¼ cup powdered sugar
1 tsp coffee
16-20 whole pecans (toasted)
Procedure:
1. Preheat oven to 350 degrees F.
2. Combine chocolate cookies and salt in food processor and grind to crumbs.
3. Melt the butter and then drizzle it over the crumbs, and just give few pulses to make it clumpy.
4. Now transfer the crumbs into pie pan and press it tightly at the base and sides.
5. Bake it for 7-10 minutes until gets firm only, its color would remain same.
6. Meanwhile prepare filling, for that Combine butter and chocolate in a saucepan and melt over moderate heat until chocolate melts completely.
7. Them remove from heat, take out ⅓ of the sauce and keep it aside for topping.
8. While in remaining sauce beat the eggs until combined.
9. Then add sugar, corn syrup and vanilla and beat again till well combined.
10. Now pour it into pie crust and place in the oven again for 35-40 mins. until the filling sets.
11. After that take it out from oven let the pie cool to room temperature. Whip the cream to make stiff peaks, then beat in the sugar and coffee and spread it over the filling of pie. Chill for 15 min. to set then top with reserved chocolate sauce and pecans.
photo source : 1