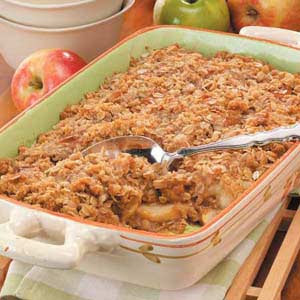 Preparation time : 50 mins. | Serves 10 persons
Apple crisp is prepared in variety of ways, this apple crisp recipe has basically caramel flavor. You may vary the flavor of this caramel apple crisp by separately make layer of caramel sauce instead of mixing it in batter so that you may deeply enjoy the caramel flavor with apple. This apple crisp is usually served warm.
Ingredients:
130 gm all purpose flour
200 gm brown sugar
1 tsp cinnamon
125 gm butter (softened)
1/2 cup pecans (chopped)
4 cup (peeled and sliced)
1/2 cup caramel sauce

Procedure:
1. In a large mixing bowl cream butter and brown sugar and caramel sauce until become smooth.
2. Now add flour and mix it in the mixture by keeping the beater speed slow.
3. Take a wide baking dish and pour the sticky batter in it. Spread slices of apples onto the batter.
4. After that place chopped pecan over the whole dish and sprinkle cinnamon powder on top. Place the baking dish in preheated oven for at 350 degrees F 25-30 mins until become set and slightly crisp from top.