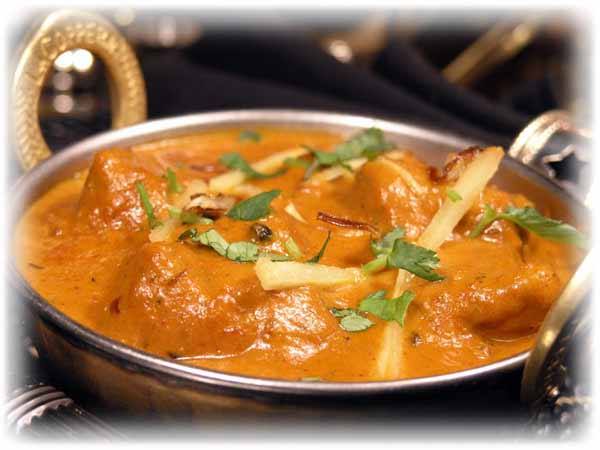 Preparation time : 30 mins. | Serves 2 persons
This butter chicken recipe is from Pakistani cuisine having very little spices are used, its taste develops only with yogurt and butter but sometimes cream is also used to make it more rich. However, original butter chicken is prepared only with yogurt and butter. You can try making this butter chicken in clay pot or handi as you cook Indian chicken curry to enhance the flavor of this recipe.
Ingredients:
1/2 kg chicken pieces
2 medium size onions (julienne)
250 gm yogurt
3 tbsp white butter
1 tsp garlic (finely chopped)
1 tsp ginger (finely chopped)
1 tsp black pepper powder
1 tsp crushed red pepper
1 stick cinnamon
Salt to taste
Chopped coriander leaves for garnishing
1/4 cup oil
Procedure:
1. In a sauce pan fry onions till become light golden in color and crisp. After frying onions take them out from oil.
2. Put the fried onions in blender along with yogurt and make a smooth paste.
3. Now heat butter in a deep sauce pan and fry ginger garlic until become light golden in color.
4. After that add chicken pieces and cook it on medium heat until turn into white in color.
5. Now add rest of the ingredients to the chicken including black pepper, red pepper, cinnamon stick, yogurt onion paste and salt and cook it on medium heat with continuous stirring.
6. When the gravy starts bubbling cover the lid of pan, reduce the heat to low and simmer it for 10-15 mins until butter starts to appear on the top surface and chicken becomes tender.
Serving:
Garnish the delicious butter chicken with chopped coriander leaves and serve it with naan or chapati.