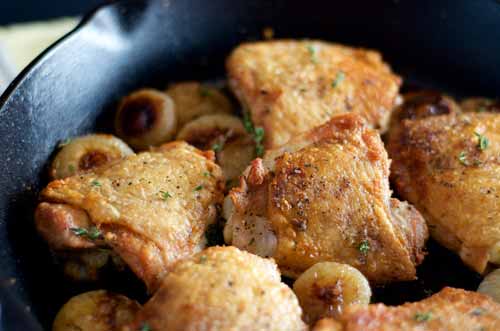 Preparation time: 30 mins. | Serves 2 persons
This Pan Roasted Chicken Thighs Recipe is a simple chicken recipe prepared with very few ingredients. The flavor of this recipe is made by using fresh herbs and seasoning of salt and pepper.
Ingredients:
4 chicken thighs with bone and skin
½ tbsp salt
1 tsp freshly ground black pepper
1 tsp garlic powder
1 tsp fresh thyme leaves
½ tsp fresh rosemary leaves
Procedure:
1. In a mixing bowl, combine all the dry ingredients and marinate the chicken thighs with this mixture. You will have to first lift the skin and then start rubbing the thighs with the mixture so that all flavors absorb well inside the chicken. You may also leave the chicken after marination overnight.
2. Now take a preheated skillet and place the chicken thigh on it in such a way that the skin side seam down.
3. Cook the chicken thighs for 5 mins. until the thigh gets a little greasy and moist but make sure that they would not stick to the pan.
4. Now roll the thighs over each piece to make them greasy and moist from all sides and then place them side by side. Transfer the skillet to the preheated oven at 45o degrees F and bake for further 20 mins. until thighs are done or their temperature reaches 160° F from inside.
5. Serve the hot pan-roasted chicken thighs with stir fry vegetables.
photo source : 1