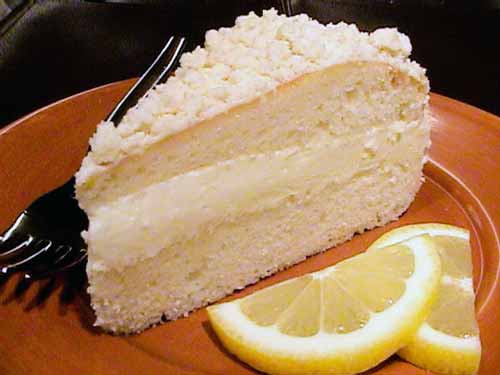 Preparation time: 60 mins. + Refrigeration time | Serves 8-10 persons
This Olive Garden Lemon Cream Cake is a copycat recipe of the famous Olive Garden restaurant. It is prepared with white cake, cream cheese filling, and crumbs topping which is entirely different from the typical lemon cream cake. The cake is very delicious and soft and this recipe gives you the same taste you enjoy eating at the restaurant.
Ingredients:
For Cake:
1 box yellow or white cake mix
3 oz vegetable oil
3 large egg whites
For Filling:
8 oz cream cheese (softened)
9 oz powdered sugar
8 oz heavy whipping cream
3 tbsp lemon juice
For Crumb Topping:
2 oz all-purpose flour
3 oz powdered sugar
1 tsp vanilla extract
2 oz butter (hard or frozen)
Procedure:
1. In a mixing bowl, beat egg whites until stiff peaks are formed then add oil and cake mix alternately and mix at low speed until becomes smooth.
2. Take two 8-inch round greased and dusted cake pans, equally divide the batter in these two pans and bake in preheated oven at 325 degrees F for 30-35 mins. or until the toothpick inserted comes out clean.
3. Meanwhile, prepared to fill for that you need to cream together cream cheese, lemon juice, and powdered sugar.
4. Beat whipping cream in a separate bowl until stiff peaks are formed, then fold it nicely with the cream cheese batter.
5. When the cake is done cool it to room temperature and prepare crumbs topping.
6. To prepare the crumbs topping, sift together flour and powdered sugar and then add butter and vanilla. Start mixing the mixture using your hands until soft crumbs are formed. You may also use a food processor to do it easily.
7. Now apply 2/3 of the cream cheese filling on one of the cakes and then carefully place the second cake on it.
8. After that spread the remaining filling at the sides or on top (if left) and then sprinkle the prepared crumbs on top and spread it evenly.
9. Refrigerate for at least 3 hours and then cut the delicious Olive Garden Lemon Cream Cake into slices before serving.