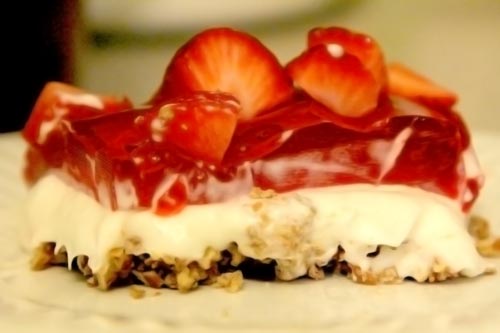 Preparation time: 30 mins. + Refrigeration time | Serves 8-10 persons
This Strawberry Delight Recipe is very much similar to any no-bake cheesecake recipe but the addition of the strawberry jelly layer at the top makes the difference. The crust for making this dessert can be made from different crumbs like Melba Snacks or using Pretzels as mentioned in this recipe but make sure that the crust has a little salty flavor which increases the taste of this dessert.
Ingredients:
2 cup pretzels (crushed)
1 cup sugar
¾ cup butter (melted)
12 oz cream cheese (softened)
8 oz whipped cream
6 oz instant strawberry jelly mix
15 oz frozen strawberries
Procedure:
1. In a food processor, make crumbs using pretzels, melted butter, and sugar. First process together pretzels and 4 tbsp sugar then add butter.
2. Take a rectangular glass dish, spread the crumbs at the base, and press it tightly to make an even crust layer, and then bake in preheated oven at 400 degrees F for 10 mins.
3. Meanwhile, cream together cream cheese and remaining sugar until fluffy then add whipped cream and fold it nicely with the cream cheese batter.
4. When the crust is ready, cool it to room temperature and then spread the cream cheese batter onto the crust. Refrigerate for at least 2 hrs. to set.
5. Boil 2 cups of water, add instant jelly powder, and cook for 2-3 mins. until it dissolves completely.
6. Remove the pan from heat and add 1 cup cold water and frozen strawberries and keep stirring until the mixture gets slightly thick.
7. Now spread this strawberry mixture at the top of the cream cheese layer and refrigerate again for an hour until it gets firm.
8. Serves the tempting Strawberry Delight after cutting it into pieces.
photo source : 1