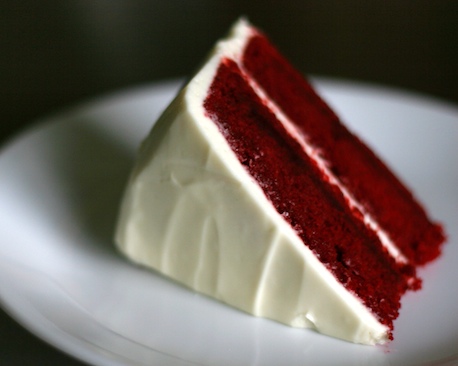 Preparation time : 60 mins. | Serves 4 persons
This red velvet cake is specially for this Valentine's Day (view more Valentines Recipes) which will definitely inspire your loved ones when you bake it specially for him or her. In this recipe of cake, cocoa and coffee is used to give it chocolate flavor which would enhance the flavor of this tempting velvet cake.

Ingredients:
2 eggs
250 gm flour
1 cup buttermilk
1 ½ cups sugar
½ cup butter
2 tbsp cocoa
2 tbsp hot coffee
1 tsp red food color
1 tsp baking soda
1 tsp of salt
Frosting of your own choice
Procedure:
1. Preheat oven to 325°F.
2. In a mixing bowl, cream butter and sugar until become fluffy and thick. It takes 5-8 mins.
3. Add eggs one by one and beat after each addition.
4. After 5 mins. when eggs beat completely add coffee, cocoa and red food color and mix them well into the cream mixture.
5. Combine dry ingredients together including flour, salt and baking soda.
6. Now add the flour mixture and butter milk alternately to the cream mixture and keep the beater speed slow because you just have to mix them together.
7. Pour the batter into greased cake pan and place it in oven for 40 mins.
8. When the cake has been baked cool it to room temperature and then decorate it with any frosting of your own choice, I like white frosting with this red velvet cake.