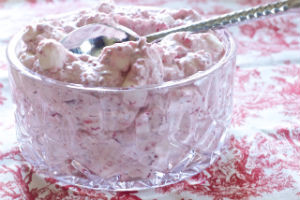 Preparation time : 30 mins. | Serves 8-10 persons
This Cranberry Fluff is one of an easy dessert that needs no more cooking. You can make different types of fluff using the same recipe like orange fluff. You can add few more fruits or berries to this fluff like grapes.
Ingredients:
12 oz Fresh Cranberries
5 oz sugar
8 oz crushed pineapple (drained)
1 cup pecans (chopped)
2 cup marshmallows (small)
8 oz cool whip
Procedure:
1. Process cranberries in food processor; just give few pulses to chop them. Make sure they would not turn into paste.
2. Transfer the chopped cranberries to a mixing bowl and mix with sugar and crushed pineapples.
3. Now add marshmallows and fold the cool whip with the cocktail mixture.
4. Refrigerate the delicious cranberry fluff for 20-30 mins. to set and then serve.
photo source : 1