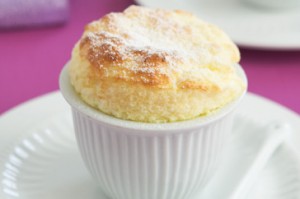 Preparation time : 90 min. | Serves 6-8 persons
This lemon soufflé recipe is prepared with both lemon and lime juice hence has full lemon flavor with buttermilk and sour cream. This soufflé can also be prepared with lemon curd which results in slightly different flavor.
Ingredients:
6 large eggs (separated)
3 tbsp butter (melted)
2 tbsp grated lemon zest
2 cup granulated sugar
¾ cup all-purpose flour
2 lemon juice
2 lime juice
1 cup milk
1 cup buttermilk
1 cup sour cream
1 tsp vanilla extract
Procedure:
1. Preheat the oven to 350°F.
2. In a mixing bowl, beat egg yolks and butter at high speed until become pale yellow in color.
3. Add lemon zest, lemon juice and lime juice gradually to the yolk mixture and beat at medium speed.
4. Now alternately add flour and sugar to the batter in 2-3 times and keep the speed of beater at low so that dry ingredients incorporate well with the batter and no lumps would form.
5. When a smooth batter would form add milk, buttermilk and sour cream to the batter and mix well.
6. Beat egg white in the end and beat until stiff peaks are formed (for quick beating add pinch of salt to the whites and then beat)
7. Fold the egg whites and vanilla extract with yolk mixture using spatula and make uniform batter.
8. Now you have choice either you can bake it in small molds for individual servings or you can bake it in a large bowl, in both cases at first grease the molds and then fill ¾ with the batter. Don't fill the mold full otherwise you batter may drop while baking.
9. Place the baking mold in preheated oven for 60-70 min until tooth pick inserted comes out clean.
photo source : 1