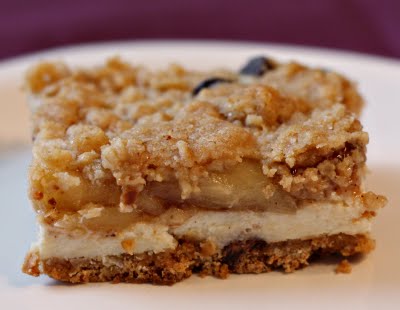 Preparation time : 60 mins. (approx.) | Serves 12-16 bars
This recipe of Apple Streusel Cheesecake Bars is extremely yummy dessert which you can serve as party dessert. The recipe is prepared in layers; the crust, cream cheese filling and apple filling. You can use readymade apple pie filling to save your time. Topping of some vanilla glaze add some extra flavor to this dessert.
Ingredients:
For Crust:
2 cup all-purpose flour
½ cup caster sugar
½ tsp baking powder
½ tsp salt
1 cup butter (softened)
1 egg (beaten)
For Cream Cheese Filling:
16 oz cream cheese (softened)
½ cup sugar
2 tbsp all-purpose flour
1 tsp vanilla essence
1 egg
For Apple Filling:
½ cup caster sugar
¼ cup all-purpose flour
1 tsp ground cinnamon
4 cup apples (peeled & sliced)
Procedure:
1. First prepare crust, for that you need to combine flour, caster sugar, baking powder and salt in a mixing bowl and then transfer it into the food processor bowl.
2. Add butter cubes to the mixture and give few pulses to make crumbs.
3. Then slowly add the beaten egg and give few pulses to mix, the mixture will remain crumbly.
4. Take a rectangular baking dish, spread 2/3 of the crumbs mixture at the base and press to make it even.
5. Now prepare cream cheese filling, for that you need to combine all the ingredients of the filling and beat well to make smooth creamy batter.
6. Pour this batter onto the crust layer and make it even using spatula.
7. In the end prepare apple filling, in a mixing bowl combine flour, sugar, and cinnamon and toss with apples.
8. Spread the apple filling onto the cream cheese layer and then again top with remaining crumbs mixture.
9. After that bake in preheated oven at 350 degrees F for 30-40 mins. until become golden brown and slightly crisp from top.
10. When the apple streusel cheesecake is ready, cool it to room temperature and let it stiff so that it can easily cut into bars for serving.
photo source : 1